The City of Melville is one of the most populated cities within the Perth metro area which means finding effective solutions for waste is essential. We are invested in finding a Melville city waste management solution so that we can ensure a clean, sustainable environment for future generations. One of these solutions is the use of high-quality skip bins Melville to collect and organise all of the accumulated city waste in both residential and commercial areas. Reach us now to hire skip bins Melville!
Why do I need the City of Melville bins to manage my household waste?
At 1300 Skip Bin Hire, we have a commitment to resource recovery and safeguarding the environment. Collecting household rubbish with a Melville bin hire is one way to ensure you protect the environment. All of the waste which is collected in our skip bins Melville will be sorted at our waste processing facility. This will ensure that any waste that can be recycled will be separated and only the bare minimum will go to the landfill. This way, you can rest assured knowing that the rubbish placed in our city of Melville bins is well-handled in an environmentally friendly way.
What skip bins Melville sizes do I need for any type of Melville city waste?
Most homeowners use our Melville bins for their general household rubbish such as green waste, kitchen waste, plastic products, old furniture, electronic waste, and other general waste. This type of waste can be organized easily in the residential skip bins which come in a variety of sizes.
Here's a list of sizes of the city of Melville bins which are perfect for the residential areas:
2m3 – commonly found in the backyard of small residential areas and is the equivalent of 25 large black bags of rubbish. Green waste, kitchen waste and old furniture can fit inside this small skip bin hire.
3m3 – slightly bigger than the previous one as it's equivalent to 30 large black bags of waste. Small room renovation project waste can be collected in this Melville bin hire in addition to the previous types of waste.
4m3 – the ideal size of Melville bins for the residential area. It can accommodate room renovation waste, garage waste, garden waste and rubbish from other larger household clean-ups.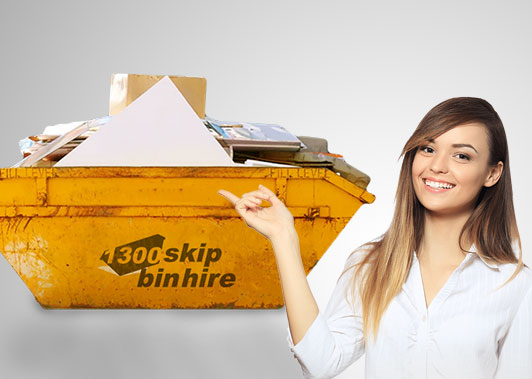 How much to book a Melville bin hire?
The cost to hire the city of Melville bins may vary depending on the size of the bins. However, at 1300 Skip Bin Hire, we guarantee the best value on all of our bins with prices starting from $170. Additionally, our bin collection Melville is with a minimum of 7 days rent. You can always find out detailed info on our instant bin hire booking system.
Benefits of hiring skip bins Melville
Whether you are clearing out after a longhouse cleaning session or simply after some light spring cleaning, you are bound to end up with a huge amount of waste that will need to be disposed of. With the help of Melville bins, you can get a hassle-free junk removal service and will get many benefits including:
It can help save time and money, as well as the effort that it would require for you to dispose of all the rubbish yourself.
It can keep you and the family safe from any dangerous waste such as broken glass.
It can help to reduce environmental pollution with effective waste recycling.
Get a Melville bin hire from us!
If you want to opt-in to a better environment solution, start by finding a reliable skip bin hire company, particularly one that offers high-quality skips at affordable prices. For a first-timer, you can always do a quick Google search for "skip bin hire near me" and you'll find 1300 Skip Bin Hire will be listed as one of the top providers. For more detailed info for getting rid of your Melville city waste, you can always call our customer team by clicking the link below.
Melville WA 6156 Service Area